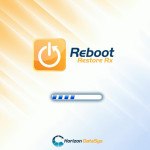 Reboot Restore Rx™ prevents any and all changes made on your drive(s) making those PC's bulletproof and unbreakable. It is designed for small public access computing environments such as classrooms, libraries, kiosks, and internet cafes. Even when users download files, viruses, malware, or even try to delete registry keys, Reboot Restore will restore the PC's back to your desired state set from a schedule that you have control of.
Key features
Restore on Reboot
Reset to Baseline on PC Start Up or Hard Reset
One-Click Instant Updates
VMWare Support
Protects the MBR
Works below Windows
Mini OS Access
Restore from unbootable Windows
Read more about all its benefits – a truly great piece of software to keep your PC safe from viruses, malware, problems and user errors!
Follow this link to download the program and get started 🙂